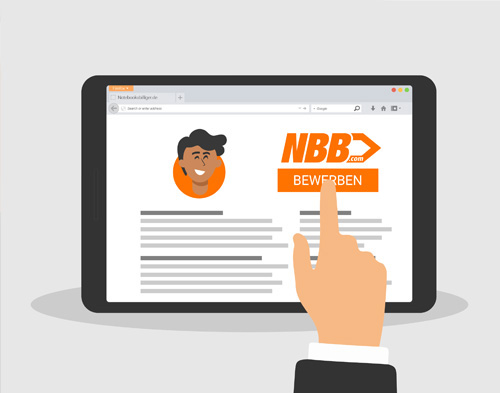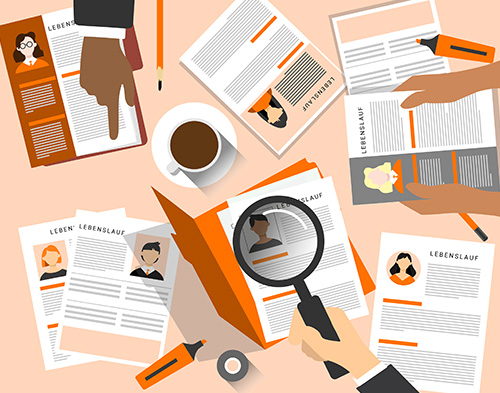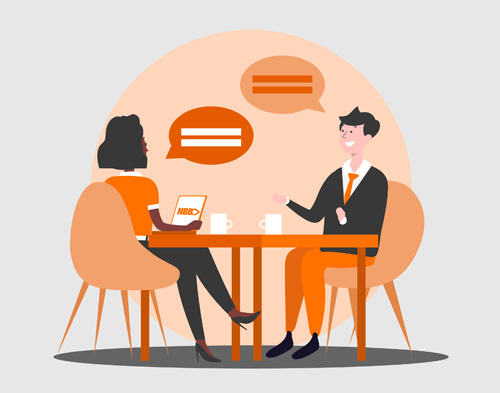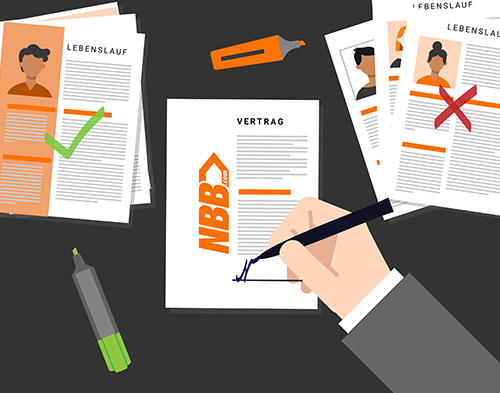 You submit your documents via our career website. We need your complete resume, a cover letter, as well as your work and degree certificates.
We will review your documents as soon as possible. After our pre-selection and the coordination with the responsible departments, we move on to the next step.
We will arrange a job interview with you. Depending on the job level & area, this step can include further steps such as aptitude test / case studies or trial work.
After a positive interview (& possibly test day) we would offer you an employment contract in the last step. Both of us will sign it and you will become a part of the NBB Family!
Frequently asked questions about applying at NBB
Where can I find current job vacancies?
Under our job vacancies you will find all positions that are currently vacant. You can easily sort the jobs by job title, location and career level or filter them according to your wishes. By clicking on the job title, you will be directed to the job posting with all the important information about the position.
Is the job advertisement still current?
All job postings you find in our Career Center are still open! As soon as a position has been successfully filled, we will immediately remove the corresponding advertisement from our website.
Is there a deadline for applications?
Our job offers are generally valid as long as they are advertised in our career center. We rarely set a deadline for applications. In this case, however, you will find a clearly visible notice in the corresponding job offer.
Can I also send a speculative application?
Yes, of course! We will be happy about your initiative!
If you have not found a suitable job posting in our Career Center, you can send us your speculative application at any time to bewerbung@notebooksbilliger.de. In your application, please let us know in which area your interests and talents lie, which location is suitable for you and what your salary expectations are. We will then carefully review your documents for various job opportunities and get back to you as soon as possible.
Please understand that we cannot offer internships in all areas. This applies especially to school internships, as a detailed familiarization and extensive knowledge transfer cannot be guaranteed due to the short duration.
Should we still be able to offer internships, you will find the respective advertisement under our job offers.
How do I apply to NBB.com?
Very simple - online! You have the possibility to apply directly to the position of your choice by clicking the button 'apply now'. Our application form is deliberately kept very short. You can easily enter your most important information in the form fields and upload the rest of your documents quickly and easily. Please note that the size of each attachment must not exceed 10 MB. If something didn't work, you can also send your complete application documents to bewerbung@notebooksbilliger.de.
We are looking forward to your application!
Can I apply for several positions at the same time?
If you find yourself in more than one job offer, you can apply for all positions individually. Our online application process allows us to check your documents for the different positions. Please note that you will receive separate feedback for each application.
What does my complete application need to contain?
Spark our interest with your application!
In addition to your curriculum vitae in chronological form and your most important certificates, a meaningful cover letter should convince us that you are the right person for the position. Please state explicitly your desired location and the title of the position you are referring to and let us know your salary expectations and your earliest possible starting date.
Please do not forget to include your contact information where we can reach you. (Preferred file formats for attachments: .pdf, .doc/docx, .jpg/jpeg)
Who can I send my application to?
Send your application to our recruiting team - contact details can be found here (relink to contact options)
What happens to my application after I have sent it?
Thanks to the online application process, your application will be entered into our system immediately after you have sent it. Your documents will be reviewed as soon as possible and in consultation with the specific department we will then decide on further steps. If your application has sparked our interest, we will contact you and look for a date for a personal or telephone interview. Some departments combine this first meeting with a short aptitude test or clarify further details in a second interview. If necessary, a test day also offers the opportunity to dispel any last doubts and to test in practice whether you fit in with us and we with you.
How long do I have to wait until I receive feedback?
After successfully uploading your online application or sending your e-mail, you will receive an automatic confirmation of receipt. This way you can be sure that we have received your documents and are now reviewing them. We try to inform you about the status of your application within two to three weeks at the latest. However, since it can happen that the decision process takes a little longer, we ask for your patience and understanding in adv
How can I prepare for the interview?
To convince us, you do not need a tie or an expensive application guide - just be yourself! During the interview we would like to get a good impression of your personality and your talents and find out what your professional journey so far has looked like and where it should go. Bring many questions and show us your interest in working for NBB.com!
Do you have questions about the application process and working at NBB? We have answered frequently asked questions about applying for our advertised positions for you here! If you have any further questions, please feel free to contact our HR team using our contact form.